Past And Newly Available UAV Helicopter Projects;


Mr. Fetters and Fetters AeroSpace Company prefers to no longer manufacture aircraft for the public. Instead, Mr. Fetters will design a helicopter to meet the special needs of a customer, and go to their facility and not only help them manufacture the helicopter, but help to setup their operation and train their personnel to be capable of manufacturing that helicopter. In the particular case of his newest design, Mr. Fetters decided to design a UAV helicopter that he knew would fit the requirements of the largest segment of the worlds market, and then find a customer that would be willing to purchase the project and let Mr. Fetters develop it for them. That new design is called the StarLite-2A VTUAV Helicopter.


Introducing the NEXT GENERATION;

StarLite-2A Autonomous UAV Helicopter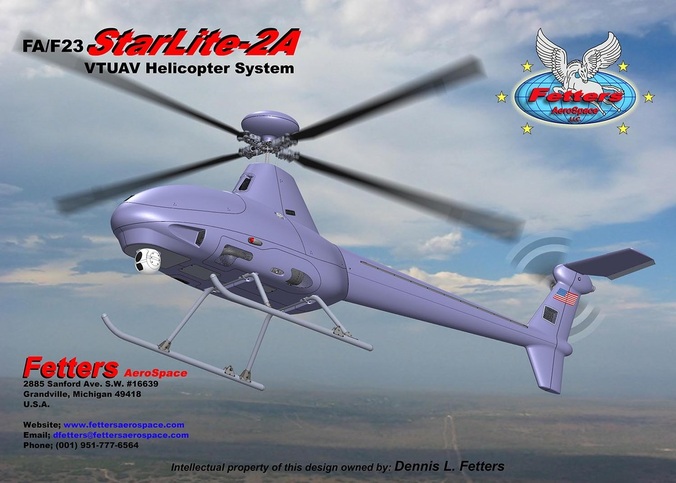 Mr. Fetters has been designing and manufacturing rotorcraft for both manned and Unmanned Aerial Vehicles (UAV) for the past 30 years, and during the past 15 years exclusively been involvement with UAV's, he has witnessed the tremendous growth of the UAV industry and came to realize that it is still in it's infancy with the best years of growth yet to come.

Because of this foresight gained from his experience, he wanted to design absolutely the best and most reliable UAV helicopter available for the 100kg empty weight category yet achieved.

He chose the 100kg size UAV helicopter because it can meet the needs of up to 95% of all the mission profiles being performed today, as well into our future. In fact, he wanted to design this to be the stable-choice of UAV helicopters for the next 20 years, or more.

For him to accomplish this goal, he had to design a UAV helicopter to rival the Yamaha RMAX and Schiebel CamCopter S-100, as well as the few other worthy types presently competing for that weight-category market.

---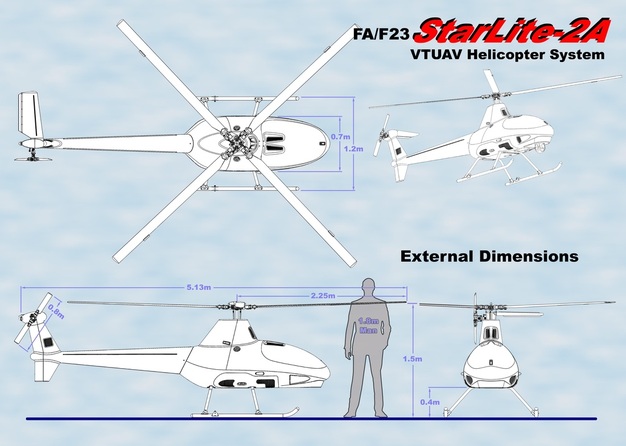 He put all of my 30 years' experience into this new design, as well as all his knowledge gained over the last 15 years from designing and building UAV helicopters and operating them on their mission profiles. It took him over one year of calculations, designing, perfecting and researching sources, while taking his time and skimping on nothing, but finally he achieved his goal, and the StarLite-2A is the undisputed answer to the challenge he had set himself to meet.

Along the way of this endeavor, he had shown his design to a few trusted friends in the helicopter UAV business, and all were extremely impressed as well as excited, but also expressed the concern that his concept was complicated and much harder to design than UAV helicopters of today, which were all they have had experience flying. Mr. Fetters had to full-heartedly agree with them; it was extremely complicated to derive all the solutions and ideas that makes for a reliable and exceptionally well performing helicopter. The reason why is because helicopters are in their nature complicated and sophisticated machines, thus why it took him over a year to design it correctly and to meet his goal of performance and reliability. But, Mr. Fetters said these were the same efforts that he had to put into his previous manned helicopter designs, so it was nothing new. Besides, pound for pound, UAV helicopters sell for a much higher price than manned helicopters, so why shouldn't it take as much time to design a UAV helicopter if it is as reliable as a manned helicopter?

The good news is the complicated and time consuming part of this project is finished and the aircraft is designed and ready to enter the building phase, and the payoff for the time taken to design it properly will become obvious and worthwhile in time.

---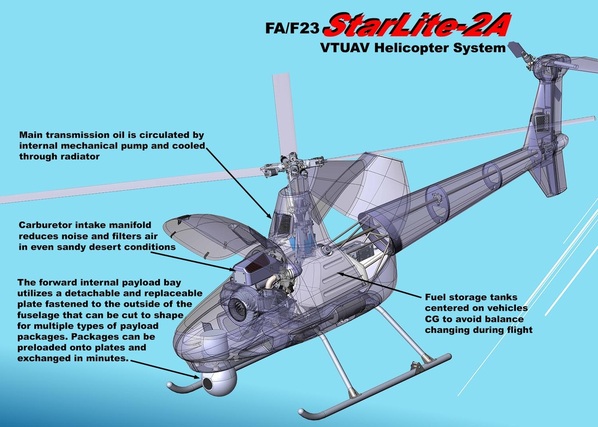 Anyone that is familiar with the typical UAV helicopters used today can tell you that they are nothing like the StarLite-2A. Typical UAV helicopters used today are all basically derived from the scale model RC-type helicopters that you can purchase at your local hobby store, only scaled up in size, and this applies to the RMAX and CamCopter as well.

Unfortunately, this more simplistic solution may be the easier and even the only way a non-professional helicopter designer can accomplish building a UAV helicopter, and we already know from experience that the results will only achieve a machine with less than desirable performance and reliability. Now more and more, this is becoming a customer concern because most of the mission payload packages are more expensive than the UAV helicopter itself.

The fact is, the less time you spend designing a helicopter by going with the simple RC-type concept, the more time you will spend later trying to make it fly acceptably, and the more time you need to spend on maintenance and rebuilding short-lived components due to their mechanical unreliability, which increases the probability of mission failure if you don't! That means less flight time, less missions, as well as less mission capabilities!

On the other hand, manned helicopters do not suffer from these problems. They are designed correctly and sophisticated enough to have the reliability and stability to carry passengers over populated areas for 100% of their operational live-spans. A UAV helicopter of tomorrow needs to have that same reliability if it wants to compete in the mission profiles of tomorrow, which will mostly include flying over populated areas.

---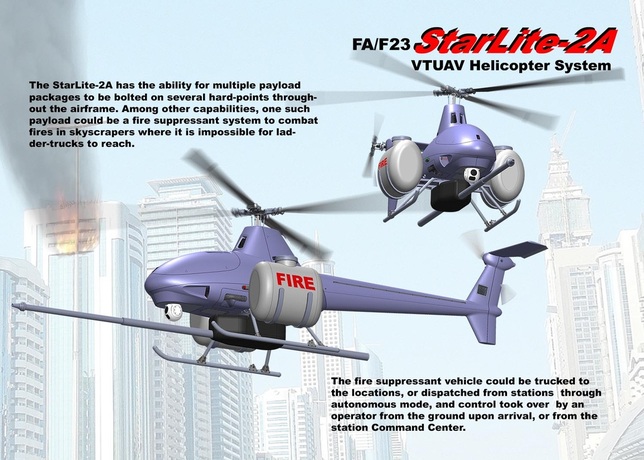 The StarLite-2A meets that need of reliability and performance, because it is designed and manufactured in the same manner as manned helicopters with all the same sophistication and complex components. Yes, the main cost to achieve that goal was the long designing time, but the payoff is not only the reliability and better performance, also it is designed to be easily manufactured without the need of sophisticated machines or equipment, and the typical aviation hardware and materials utilized are readily available. The StarLite-2A is also designed to be easily factory assembled by people with just basic training and knowledge of its flight systems. In fact, Mr. Fetters designed it so the cost of manufacturing is very close to that of the RC-type concept machines of yesterday. In other words, there are no adverse reasons not to manufacture the StarLite-A2 UAV helicopter over the RC-type UAV helicopters, and in fact every reason points to why you should choose the StarLite-2A UAV system.

Mr. Fetters has decided to sell this project to a qualified company or government organization that would be capable of manufacturing and marketing such a vehicle, and he will make himself available on-site and full time to oversee the project to completion, and beyond. If you are interested, then please contact Fetters AeroSpace Company and discuss what it would take for your company or organization to be today's owner of what will be tomorrows most advanced UAV helicopter product.

Experience and dedication to perfection is what builds successful aircraft! That is what keep Mr. Fetters 14 other rotorcraft he designed still flying everywhere around the world, and now as an experienced freelance helicopter designer, Mr. Fetters can help you build your legacy in aviation as well!

---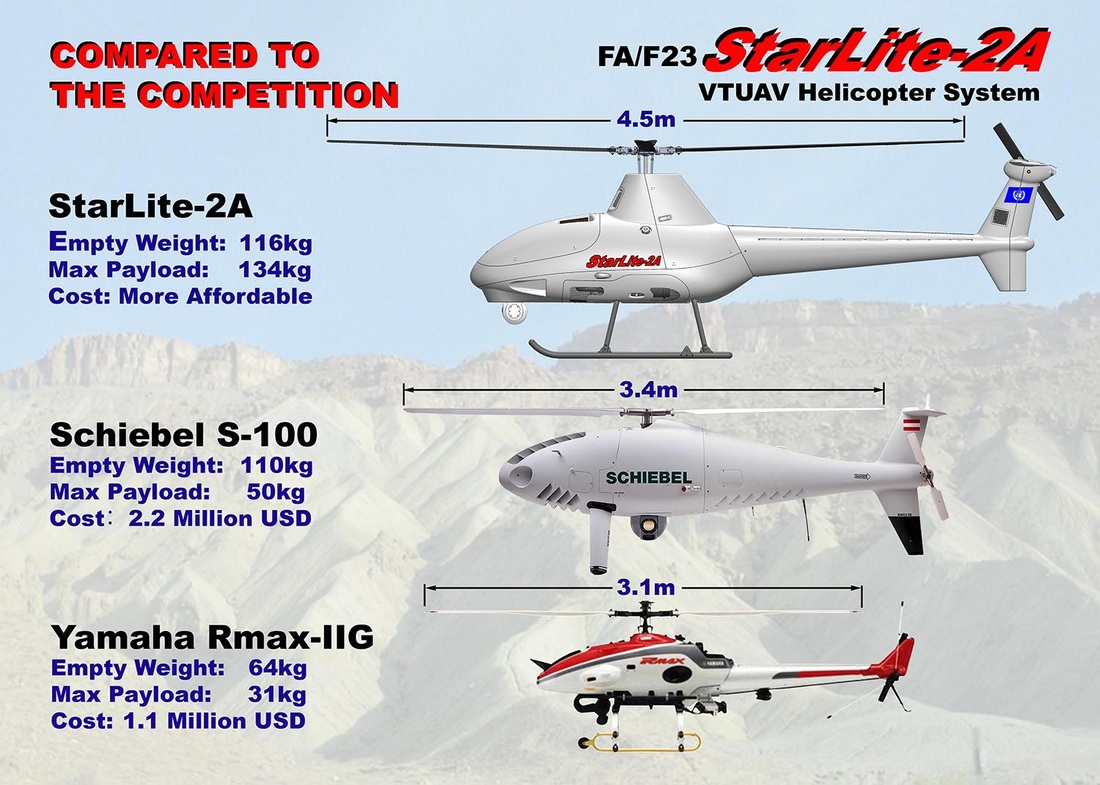 ---
StarLite-2A Advanced Features over other UAV Helicopters;

Fully Articulated Rotorhead System;
Ridged and Simi-ridged rotorheads on UAV helicopters using RC-type technology cause the fuselage of the helicopter to move erratically with the same movements of the rotor system. This will negatively affect any sensing equipment on-board. The StarLite-2A uses a fully articulated free-to-move rotorhead for a smoother controlled flight. As the rotor system is controlled and adjusted by the Flight Control System, the fuselage of the helicopter moves a great deal less, allowing for any sensing equipment to operate in a more stable and smooth environment.

Oil-Lubricated Rotorhead System;
The StarLite-2A rotorhead also uses a sealed bearing system and is lubricated by oil, not grease, and is contained with radial seals. This allows the helicopter to fly in a wide variety of weather and terrain, from hot to very cold conditions without the lubrication becoming too fluid or too solid, and in sandy or dusty conditions without contamination jamming-up the system. Although the rotorhead bearings are long-life, they are commonly available and easily changed-out with common tools.

Rotorblade Hydraulic Dampeners;
The StarLite-2A rotor system uses adjustable dampeners to stabilize the rotorblades from ground-resonance, yet are designed to allow for freedom of movement for in-flight blade lead-lag movements for a smooth and stable flight.

Hollow Main-Transmission Shaft;
The main-transmission shaft is kept hollow, with support bolt-down locations located both below the main transmission and on top of the rotorhead. This allows for electric wires or cable to traverse to a pod or other instruments, or even a ballistic recovery parachute to be mounted on top of the rotorhead.

Articulated Tailrotor System;
Most RC-type UAV's have ridged tailrotor systems, and on the same plane as the Tail-Boom. This will cause a great deal of vibration in forward flight since the blades are not allowed to feather. The StarLite-2A uses a normal teetering tailrotor system, the same as manned helicopters, which reduces vibration and will not adversely influence forward-flight characteristics.

Raised Tailrotor System;
The StarLite-2A tailrotor system is located at the same height as the main rotor systems rotorhead, which offers several advantages over other UAV helicopters; the main-transmission mast does not need to be tilted to offset the thrust of the tailrotor so that it can take-off and land level. Also and very importantly, the payload of the StarLite-2A can instantly change from full to empty without experiencing a dramatic shift in balance, which happens when the tailrotor system in below the main rotorsystem.

Tail-Rotor Drive-Shaft;
Instead of using a belt-driven device to power the tailrotor system like almost all other UAV's, the StarLite-2A utilizes a metal drive-shaft. A drive-shaft is the most reliable and efficient way to transfer power to the tail-rotor, and is also virtually maintenance free. This allows for the complete tail-boom to be removed with only four bolts.


The tail-rotor drive-shaft then slides off a splined coupler and remains installed on the tail-boom for easy transportation and reassembly. The drive-shaft is also supported by a maintenance and friction-free Teflon bearing that floats and relives stress to the drive-shaft when experiencing normal twisting and deformation of the tail-boom during flight and landings. The drive-shaft also has rubber couplings on both ends to absorbed torsional vibrations from the engine.

Engine Mounting;
Helicopters are destroyed by vibration. This is especially true for RC-type UAV helicopters which all experience a short life and problematic operation. Most all RC-type UAV helicopters use no type of isolation systems on the engine or rotor system. They bolt everything rigidly, and live with the bad results. All of the StarLite-2A systems are isolated for vibration control, including the main transmission which itself is isolated from the engine and airframe. The engine is totally isolated from the aircraft through rubber isolators and is built modular, and easily removed for maintenance or change-out.

Power Transfer System;
The power from the engine is transferred to the main-transmission through a metal drive-shaft which is also isolated with rubber couplers on both ends. These couplers absorb the engines torsional vibrations and adjust for misalignment, allowing for a smooth transfer of power. This design offers a unique versatility to the StarLitw-2A, by allowing different engines, as well as two or four-cylinder engines to be adapted in the same airframe. The welded steel-tube engine mount is separate, but bolted to the main airframe, and therefore can be replaced with another engine mount frame designed to fit a different type of engine. This system allows for easy installation of an alternator for extra electrical power, or a pump for agricultural or firefighting applications to be directly powered off the drive-shaft.

Accessibility and Versatility;
The composite covers of the StarLite-2A are mostly for appearance, but provide for clean aerodynamics and protection of interior components. This means that if needed, new molds can be built or retooled to any shape required, offering the ability to adapt to specialty missions or resemble other type of helicopters for target accusation training. There is a large access door over the engine and forward payload department, which has a key-entry for security, making fast access for inspection and payload replacement. There is also a removable cover to the aft electrical and payload departments.

Oil-Cooled Main and Tailrotor Transmissions;
Both the main and tail-rotor transmissions are oil-cooled for full continuous operation even at full gross weight. The main transmission oil is circulated by an internal mechanical pump and cooled through a radiator located forward in the fuselage doghouse. Air is constantly pulled through the radiator by the circulating effects of the engine cooling fan. The tail-rotor transmission also has an internal mechanical pump that circulates oil from both the lower and upper tail-rotor gearboxes through a radiator mounted in the vertical stabilizer, cooled by air drawn through the tail-rotor.



---
Please View Some of the Advanced Features of the StarLite-2A UAV Helicopter;
---
You are invited to watch the readable PPT video that introduces the StarLite-2A VTUAV to potential Investors;
---
The StarLite Previous Prototypes;

The StarLite-1B

Also Known As The SVU-200 Heavy-Lift VTUAV Autonomous Helicopter;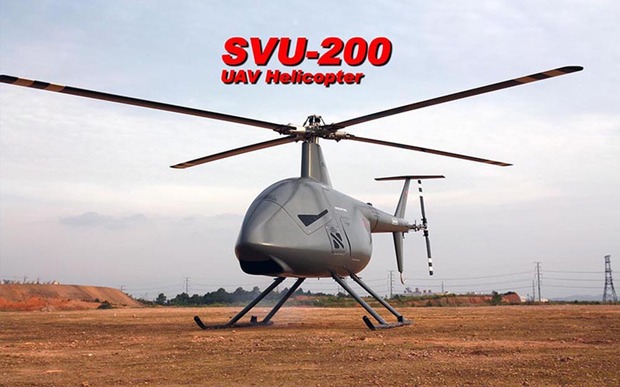 The StarLite-1B, or also known as the SVU-200 was designed for Hunan Sunward Science and Technology Co., LTD., of Changsha China, where Mr. Fetters has been living and building the project for the last 2 years, working hand-in-hand training Sunward engineers in the art of rotorcraft development, together while manufacturing 100% of the SVU-200 UAV helicopter in China except for some electrical components.

The SVU-200 benefits from a new rotorhead and control system combination designed by Mr. Fetters that provides for "super-stable" controlling of the helicopter requiring only 1/10th of the amount of computer-stabilizing control inputs as with other large UAV helicopters.

---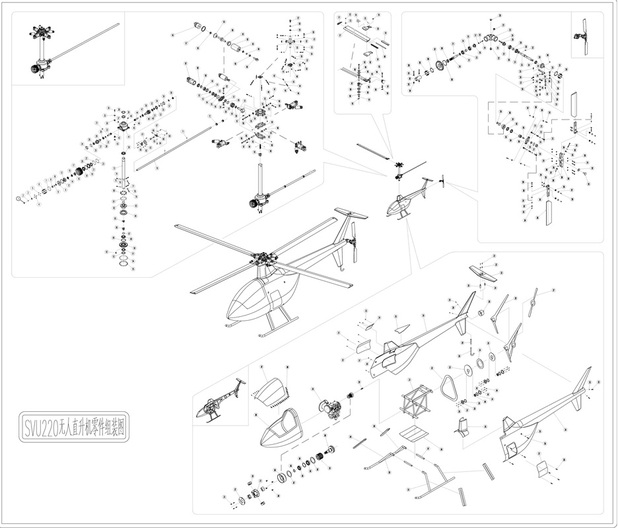 The SUV-200 has two internal payload bays, one in the nose and one in the rear of the aircraft, and is also equipped with hard-points and capable of hauling sling-loads, or carry an external cargo/payload pod, and even extended-range tanks with extra fuel for longer mission capabilities.

The SVU-200 is powered by a Rotax 582 engine using the special Fetters-designed PEP (Power Enhancement Package) exhaust system, enabling the engines power to be increase from its normal 65 to 78 horsepower, and designed to be capable of lifting up to a 200kg maximum useful load and a top-speed up to 209 km/hr.

The SUV-200 is not an existing helicopter converted to a UAV, but was designed from the ground up as a "large helicopter made small" and not a "small RC helicopter made big", like most all other UAV helicopters to date.

---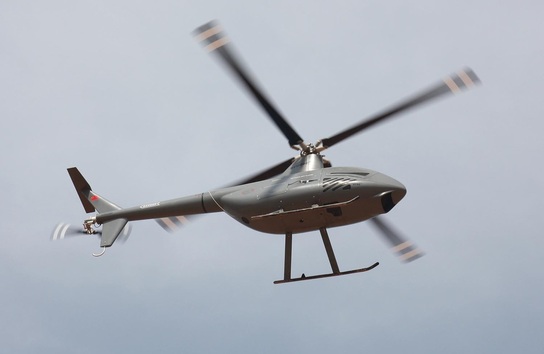 All parts were specifically designed and built for this project and are unique, using custom-made geared transmissions and tail-rotor drive shafts.

Therefore the SVU-200 has the same construction as a full-size manned helicopter, along with the same reliability and longevity as a full-size manned helicopter.

This detail to quality is due to the fact that today's electronic payloads can easily be more valuable than the cost of the helicopter.


---
---
We invite you to watch the following video showing the SVU-200 UAV Helicopters first autonomous flights. The video was taken over a two day period, in which time it took to make adjustments to the autonomous controller, and unheard of short time. This is due to the fact that the helicopter was designed to be operated by an autonomous system from its concept, and not just another compromise like other projects.
---
We also invite you to watch the very first flights of the SVU-200 UAV Helicopter under manned control. This vehicle was capable of flight the first time tried, and needed no further adjustments or modifications to fly correctly. The following day it was demonstrated in this video to the C.E.O of it's owner, Mr. He of Sunward Technologies in Changsha China.
---
---
The StarLite-1A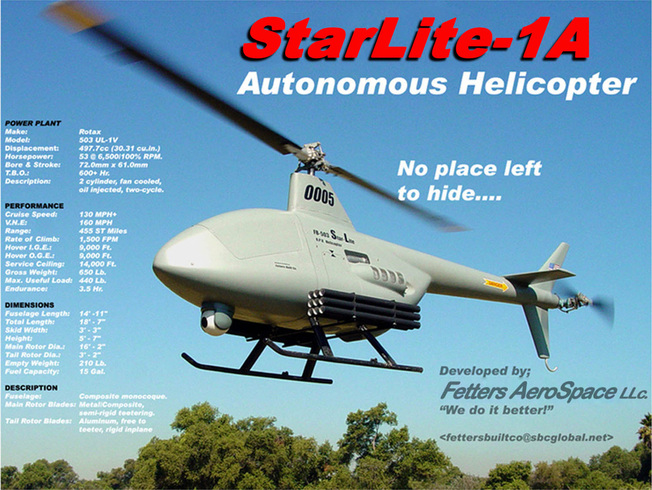 The StarLite-1A project was started in August 2002. A customer had approached Mr. Fetters with the proposal to build a medium-size UAV helicopters using the main components of one of Mr. Fetters earlier manned helicopters he had designed; the Mini-500. The reason for using the already proven main components from the Mini-500 Manned helicopter is only a natural conclusion, because one of the hardest and most expensive thing in helicopter development is to design, build and then prove for long term operation the complex components such as rotorhead, and control systems, tailrotor, main and tailrotor transmissions, etc.

Indeed using the Mini-500 main components and only having to design a new fuselage did save a great deal of time and money, flight tests started to show Mr. Fetters the downfalls to such a design. In a manned helicopter configuration the human occupants are the payload, so the helicopter must be optimized in it's designed to carry out that job as efficiently as possible, so the balance of the helicopter must consider in the design the placement of the humans for balance. This means that any manned helicopter that is converted into a UAV must carry enough ballast where the human cargo is mission so it can be balanced. That means the UAV must fly at or around maximum loads all the time, severely limiting the performance and capability of the vehicle. The StarLite-1A achieved many hundreds of hours of successful flights and 5 vehicles were built and flown, none of which ever crashed during the projects history.

---