Gyroplanes Designed and Built by Dennis Fetters

The Bensen B-8 Gyrocopter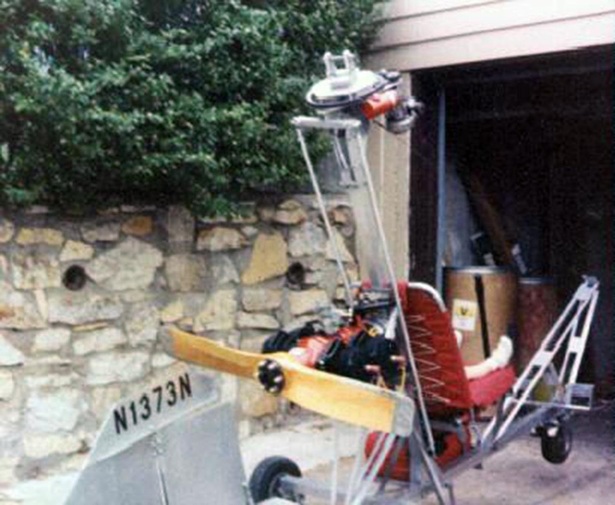 Mr. Dennis Fetters has been designing and building rotary wing aircraft since 1975. His early aircraft experience included building and flying Bensen Gyrocopters in the late 70's. He traveled the country attending gyroplane events to learn all he could about this magnificent type of aircraft. The Gyrocopter used an old target drone engine for its power, and proved to be extremely unreliable. Many before had tried to develop an alternative engine, even the Gyrocopter designer Dr. Igor Bensen, but all had failed. After hundreds of hours of successful flying, Mr. Fetters finally experienced his first "Mac‐attack" and made a forced landing in the middle of nowhere.
---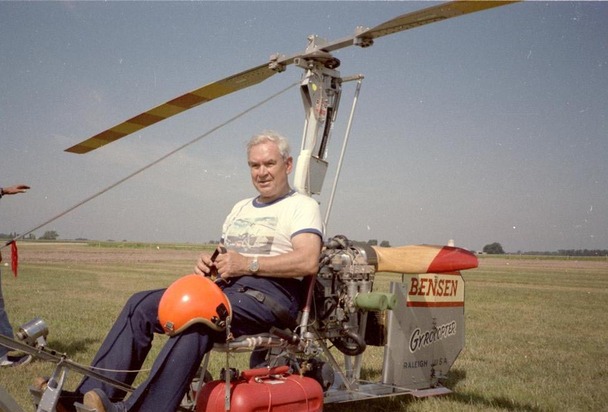 This turned out to be a pivotal moment in his life, because during the long walk back to the airport through a desolate region in Missouri called "Little Egypt", he had hours to think about what could be done to prevent this from happening again. Mr. Fetters decided to use his tool and die machinist skills to conquer this age‐old problem one and for all, and began work on converting the first Rotax Ultralight engine for Gyrocopter use.
---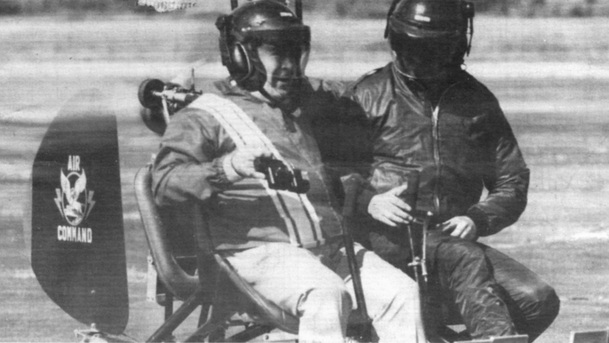 After two years of development and testing, success was finally achieved, and the worlds' first Rotax powered Gyrocopter took to the air. It was so impressive that the young Dennis Fetters was invited to the Bensen factory in North Carolina to work there on the project, and achieved Bensen approval for his engine upgrade, and was even awarded a Bensen dealership. Thus was the beginning of his career in aviation design and manufacturing.
---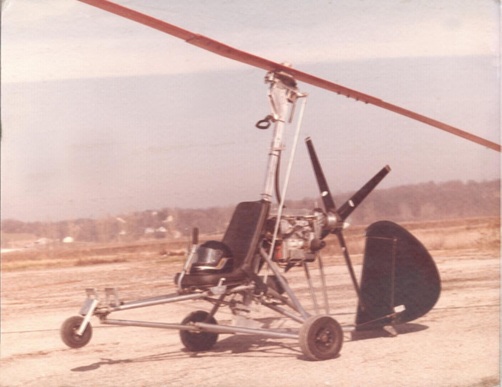 As Mr. Fetters learned more about the Gyrocopter, it had become apparent that this old design was outdated, inefficient, and limited. He set to work, and finally designed his first gyroplane in 1980, the Commander Gyroplane. The aircraft was so successful that he had no choice but to build a factory to meet demand, and started Air Command Manufacturing, which proceeded to become the world's leading producer of gyroplanes. Mr. Fetters' Air Command gyroplanes were known for their innovative and practical designs, and this was the main reason he and many of his customers won nearly every competition they entered.
---


Below is the original 447 Commander Demo Video that was mailed with the Information Package;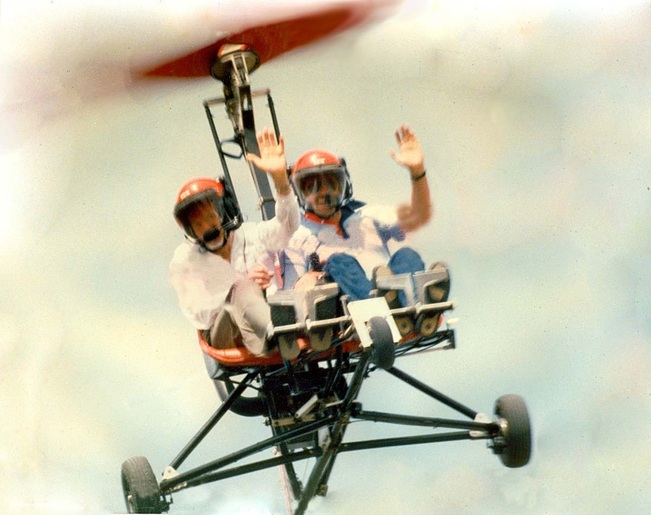 Mr. Fetters led Air Command to capture 97% of the world's homebuilt gyroplane market with his leadership skills, production abilities and design capabilities. Over 1,100 Air Command gyroplanes were purchased by customers worldwide. During these years Mr. Fetters took the opportunity to broaden his knowledge and experience of all types and makes and models of gyroplanes, including the McCulloch J‐2 Super-Autogyro, and the Air & Space 18A Jump‐Gyro, of which he still holds this aircrafts altitude record.

---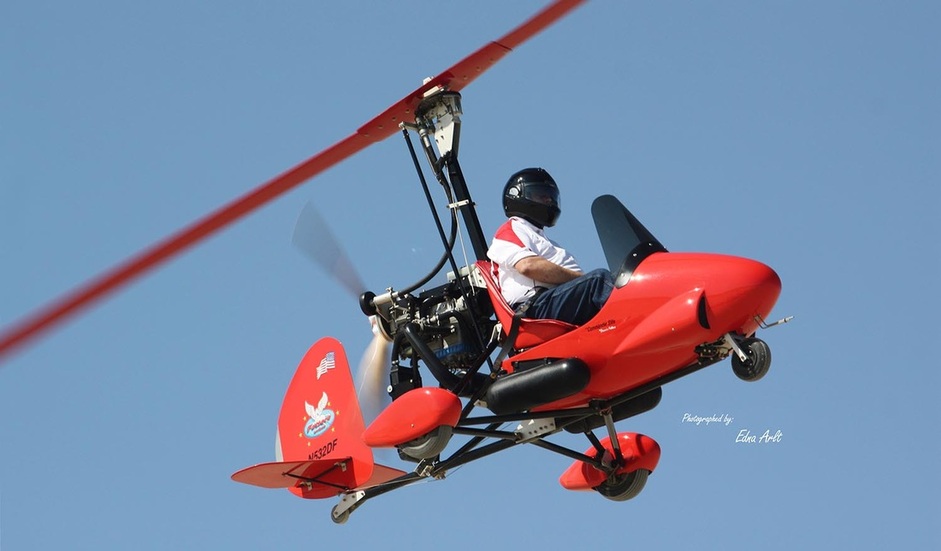 In recognition of his accomplishments in gyroplane aviation, in 1986 Mr. Fetters was awarded the Popular Rotorcrafts Associations highest honor; The Man and Machine Trophy of Rotorcraft Excellence.
---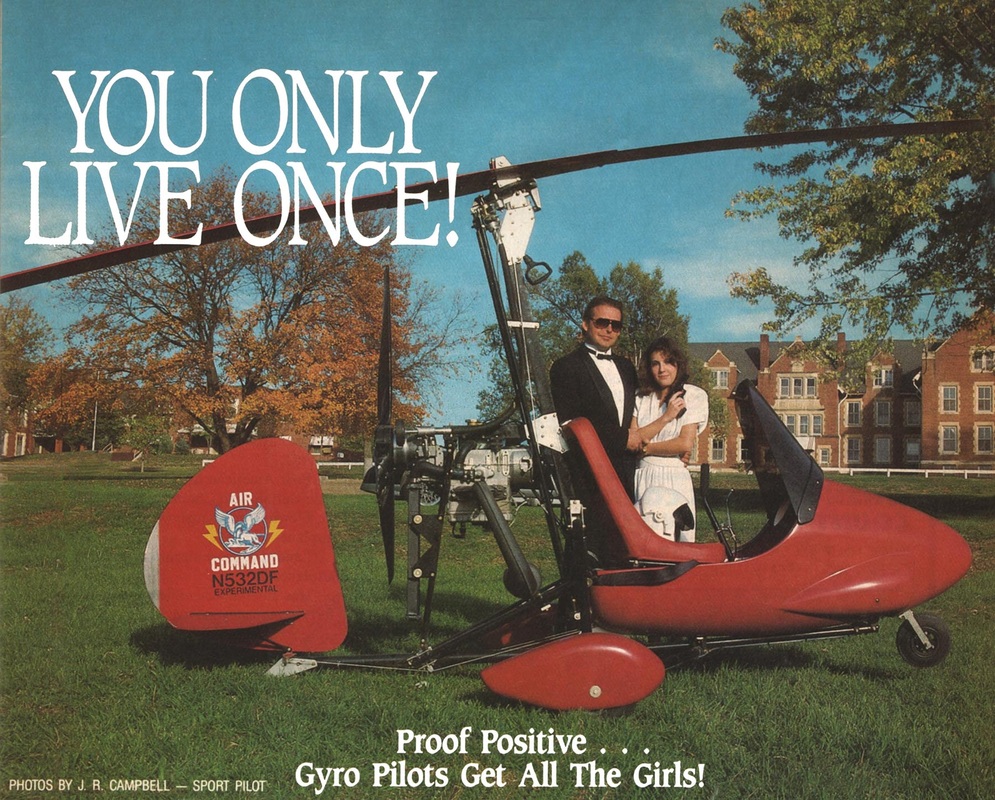 One of Air Commands Full-Page Advertisements "Borrowing" From The Popular James Bond Movie "You Only Life Twice" . The Picture Was Even Taken By The Famous ZOOM Campbell!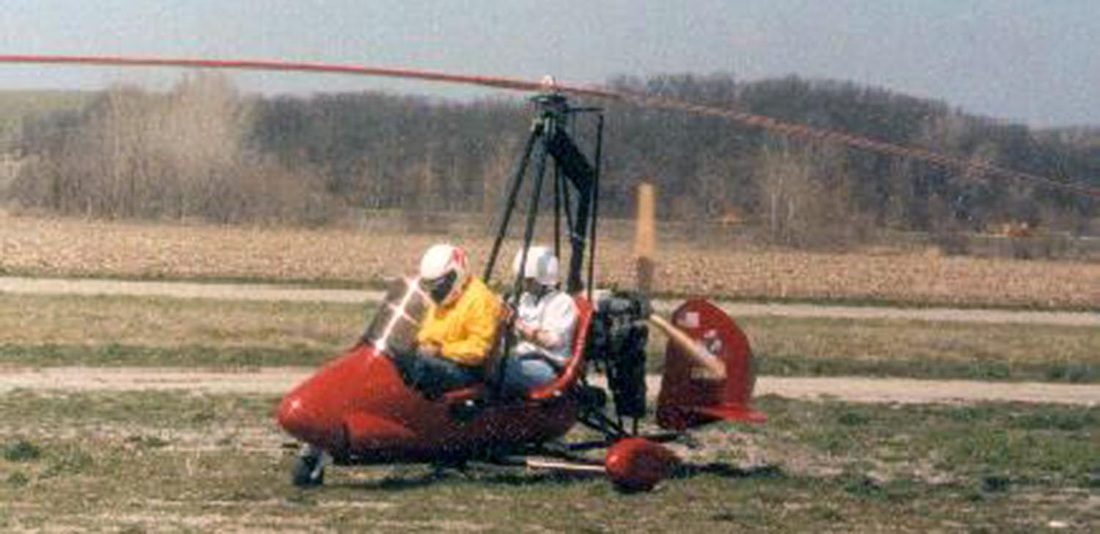 One Of The Only Pictures Left Of The Original Tandem Two-Place 532 Commander Elite. The Tandem Was Also A bolt-On Option For All Commander Airframes, Making The Commander The Most Versatile Aircraft In The World, Past Or Present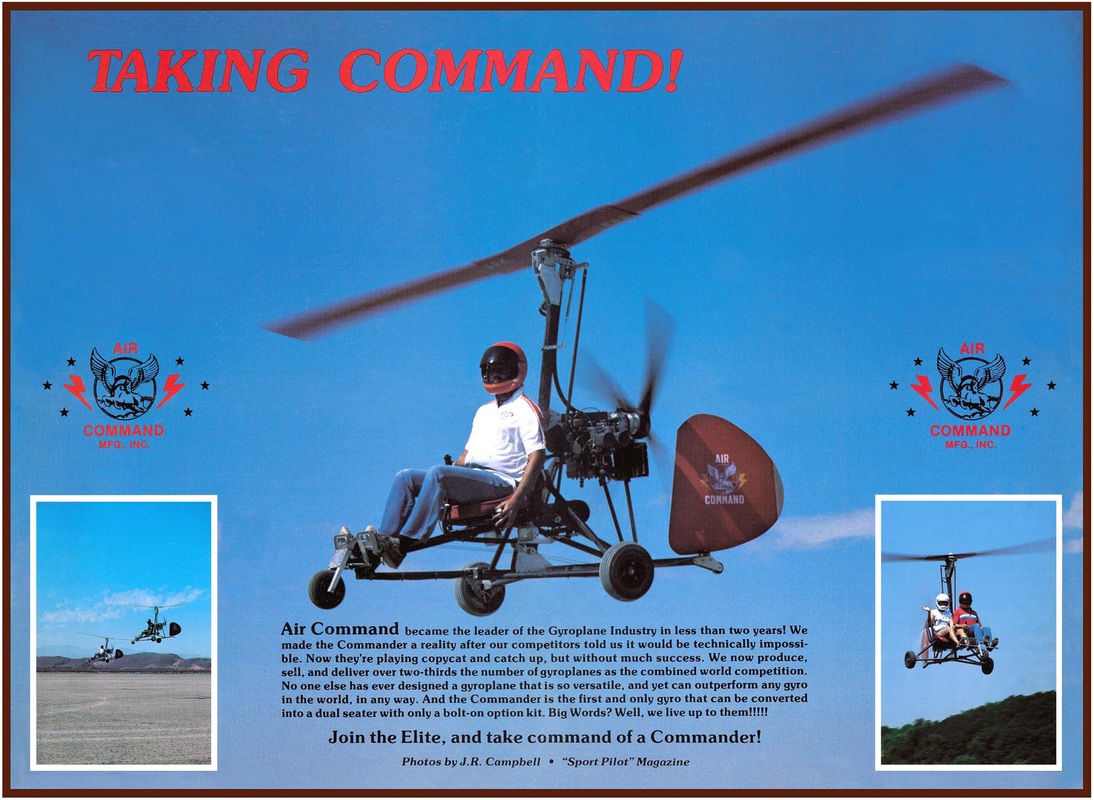 This Was The 20" Wide Wall Poster That Went In The Old Air Command Mail-Out Information Package In The 1980's.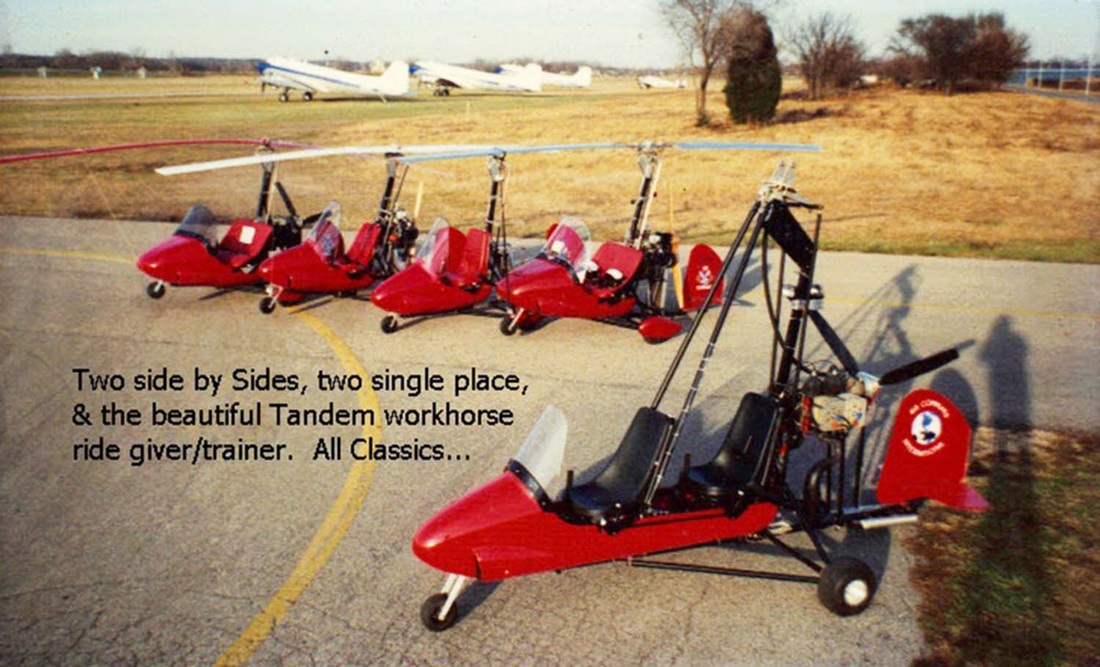 All Of These Machines Are Owned By Helicopter Ed Alderfer. Mr. Fetters Was Always Proud To Have Helicopter Ed As A Good Friend And Avid Supporter Of The Commander Gyroplanes.
Dennis Fetters Performs A Fly-By In His Personally Owned 582 Commander Elite At The El Mirage California Dry-Lake Fly-In 2009. This Commander Was Originally Built In The Old Missouri City Factory, Sold To A Customer in California Where Fetters Purchased It As A basket-Case In 2006 And Completely Restored It To New Condition.
When Dreams Come True.......
| | |
| --- | --- |
| Although busy with designing and manufacturing both manned and unmanned helicopters since 1990, Mr. Fetters has not given up his love for the gyroplane. He has continued the search for improvements, and someday when time permits, dreams of using the knowledge and experience gained over so many years of helicopter activity, and use that knowledge to build the ultimate flying machine; A multi-passenger Super-Gyroplane that is practical, safe, and elegant with high performance for anyone to own and operate. | |