NOTCE:
At present we are working on projects in both the United Arab Emirates and China. Therefore we are outside from the USA for extended periods of time. Please see the map on the bottom of this page where we are now and the best way to contact us.
---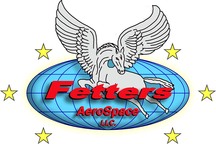 Fetters AeroSpace Company was founded Mr. Dennis Fetters in 2014 as a Research and Development company for the designing, prototyping and testing of specialized rotary-aircraft systems. Over the past 13 years Fetters AeroSpace has become specialist at the designing and building of Unmanned Aerial Vehicles (UAV) rotorcraft and successfully provided operational vehicles to a number of Companies overseas. Mr. Fetters offers his services and contacts through Fetters AeroSpace as a freelance design engineer of rotorcraft vehicles to other companies and customers throughout the world. With experience backing up the progress, you will be surprised just how affordable a project can be. Most of the cost of a new aircraft project comes from inexperience and not knowing the problems to avoid. Fetters AeroSpace has that extensive education, and we can bring any project to reality far faster and more affordable than if you go it alone!

If your Company or Organization has the need for a specifically designed UAV rotorcraft, please contact us with your requirements. As needed, Fetters AeroSpace can call on many talented people accumulated over Mr. Fetters long 30 year career in the designing and manufacturing of over 1,700 rotorcraft as required to finish any project. In this manner Fetters AeroSpace is able to offer a unique service to its clients that enables them to have the full service capabilities of a large internal designing team to complete the project, but without the need to hire expensive design engineers on a full-time bases.

Fetters AeroSpace will also design UAV aircraft as they see would best fit specific markets and then offer the design and manufacturing rights to other companies, as well as travel to those companies to help in the development of those vehicles from final design and factory setup and training, through to successful field deployment of the product.
---
---
News Release;
Fetters to Sell Design-Rights of Latest UAV Helicopter Technology With Full-Time Assistance Towards Deployment;


Introducing the StarLite-2A

Worlds Best and Most Reliable UAV Design For up to 130kg MAX-Payload Capacity Missions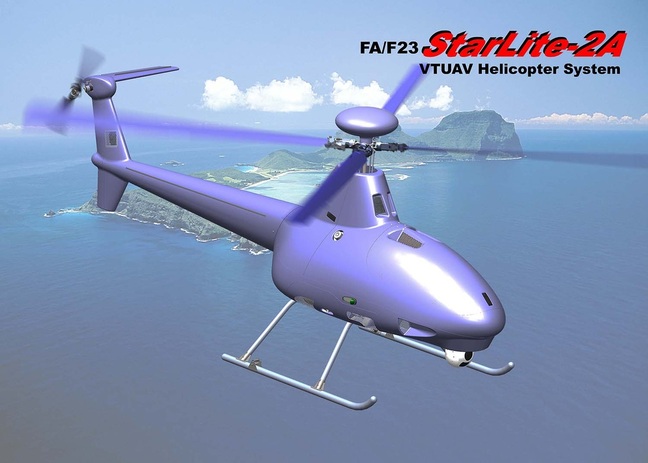 Although the StarLite-2A is a new design from Mr. Dennis Fetters, it is actually the final derivative from the combination of many previous flying prototypes of unmanned helicopters over the past 12 years of his UAV designing, building, testing and actual in the field use of his vehicles.

The world's hotbed of UAV activity and development has been in China, so since 2010 Mr. Fetters has lived and worked in China for several different businesses as their Chief UAV Designer so that he could have the opportunity to design, develop and operate many different types of UAV vehicles, and opportunity few if any others have had in such a short period of years. This allowed him the unique opportunity to explore, develop and test his ideas on a large scale platform and with virtually unlimited budgets. The experience has been without equal and invaluable to Mr. Fetters, and has provided him the opportunity to have designed, built and flown more different types of UAV helicopters than any other person.
---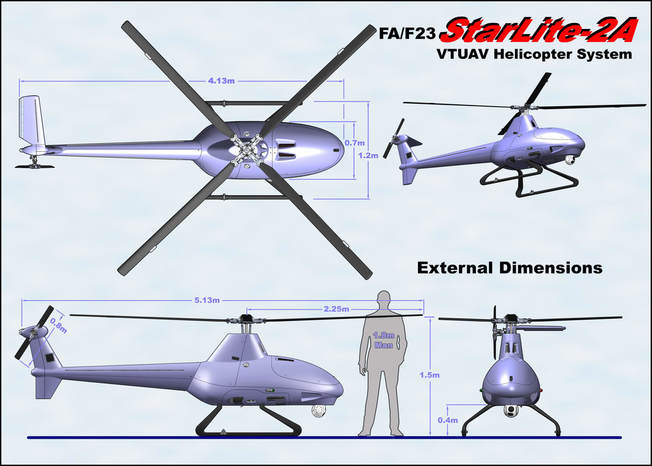 With this unique experience under his belt, he set forth to design the UAV vehicle that would be the right size and high reliability and performance to handle literally 95% of all jobs that the UAV industry would demand. That combination of experience has led to the final design of the StarLite-2A UAV helicopter, which in reality is the next generation with all the benefits and improvements of his previous successful line of UAV Helicopters.

The StarLite-2A has been designed using the Metric System for sizes and measurements, but also utilizes American Made aviation hardware for reliability.


---
---
Investing Into The StarLite-2A;

It Will Cost Less Than You Imagined!

THE DESIGNER TELLS YOU WHY;
Greetings, my name is Dennis Fetters, the designer of the StarLite-2A. I would like to use this section as if you and I were having a face to face conversation for what it would take to invest and profit from the next and best evolution of the StarLite series of UAV helicopters I have developed over the past years.

WHY THERE IS NOW AN OPPORTUNITY;

The UAV market has been flooded with every size of electric powered multirotor UAV imaginable, and has so much completion competing for the same markets that it is no longer a good investment. All the electric multirotors have similar power to weight performance, some big - some small, but all have poor reliability and around a 30-45 minute mission durations.
The electric multirotor is good for a variety of missions, providing you can live within the limitations and lack of reliability. But, not all customers can live with these limitations, thus where the opportunity lies. Many customers need 2, 3 or 6 or more hours of mission durations, and many customers needed to hoist up to 30kg of payload. To fit these needs the customers had very few choices of vehicles, so for the past 15 years, the Yamaha RMAX and the Schiebel CamCopter have been the predominant leaders of the medium payload capable UAV vehicle class for missions that required extended flight duration and greater range.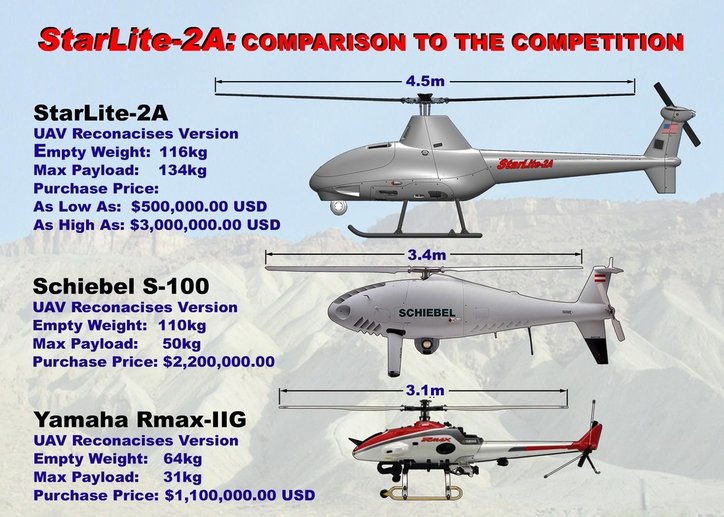 Yet, even as expensive as these two solutions are sold for, they still have too many drawbacks to meet all the customers' needs. In reality, the RMAX and Schiebel owe their DNA back to the simple RC-type helicopters you can buy in many hobby shops. Of course, they are built on a larger scale and use better hardware and stronger oil lubricated transmissions, but the bases still has the same problems of poor power to weight lifting capabilities, mechanically unreliable performance and instability they inherited from their toy-counterpart derivatives.

In fact, the customer needs are so great, that they have been willing to pay millions of Dollars each for these solutions despite their extreme limitations. Imagine that; someone willing to pay Millions dollars for a UAV helicopter designed 15 years ago that has an empty weight of 110kg, and yet it can only lift 50kg of payload! The fact is that if the competitions reliability, stability and payload performance were much better, they would have sold many, many more vehicles than they did.
---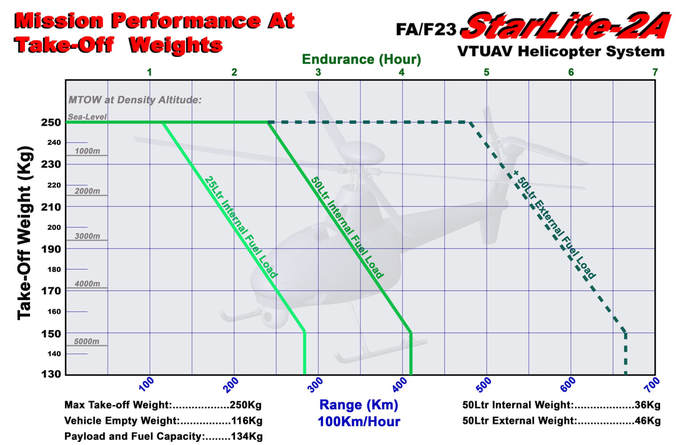 WHY THE STARLITE-2A IS A GREAT INVESTMENT;

Today, in most cases the payloads are more costly than the UAV vehicle itself, especially payloads from the 30kg to 100kg range, and they want to know their mission package and vehicle are going to return safe, and willing to pay for that increased reliability factor.

Also, and most importantly, the customers mission profiles of duration and locations are changing, and they need vehicles able to adapt to these changes. For instance, up to now these mission profiles were over remote areas, because of the UAV rotorcrafts notorious unreliability. Now, more and more customers have the need for a Vertical Take Off and Landing (VTOL) vehicles to fly extended missions next to and even over populated areas and in a wider envelope of weather conditions, which added a new concern to just the risk of losing a vehicle and mission payload.
---
THIS MAKES THE STARLITE-2A DIFFERENT;

I have designed my latest UAV helicopter to not only compete with any of today's existing Unmanned Aerial Vehicles, but to surpass their performance, reliability and mission adaptability in every imaginable way, plus to be more affordable to manufacture.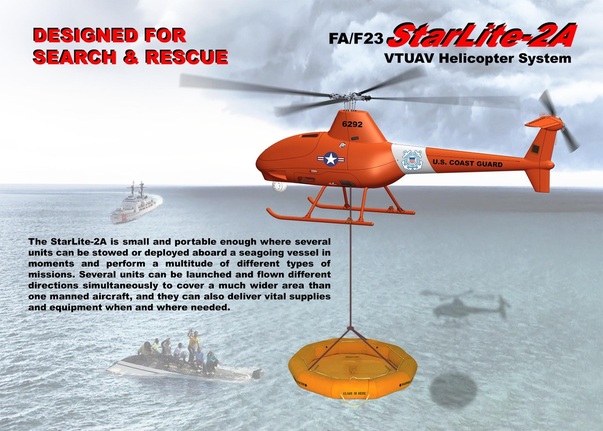 How did I do this? To put it in a nutshell, by coming at it from the opposite direction as my competitors took. Rather than to take the easy way, like the others did, and model the UAV helicopter from smaller RC-type models and living with the poor performance, instability and unreliability, I used my previous years of experience from designing and building larger and more complex manned helicopters and I found the way to miniaturize the components to be utilized in the smaller UAV helicopters as I have constructed and tested over the past decade. By doing so allows for the UAV helicopter to have nearly the same reliability and performance ratio as full-size manned helicopters. As you can imagine, that was no small task. But, now that I have completed the design, I am completely confident I have succeeded. On the other spectrum, there have been those that have tried to convert the smaller manned helicopters that are available on the market into UAV helicopters.

In fact, this is what I tried the first time back in 2004, and the results were not acceptable. The reason for that is manned helicopters are designed to carry their main payload as efficiently as possible; that payload is the human occupants, so when the human payload is withdrawn, you have to replace it with something else. That means your mechanical mission payload needs to be as heavy as the humans were, so that the helicopter remains balanced. That's too bad, because if a customer has a lightweight payload and wants to trade for more fuel or higher altitude missions, they cannot because they have to fly around with all that unnecessary balance. Therefore, it is far better and more efficient to design the UAV helicopter in a configuration meant to carry payloads located near its center of gravity, rather all in the nose like humans are located.

To sum it all up, the StarLite-2A has been optimized in its design for long mission durations, higher stability, and far better reliability while fitting a higher assortment of mission profiles, while being more affordable to manufacture.
---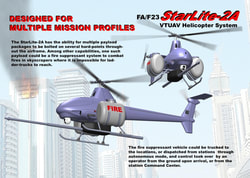 WHY OTHER UAV PROJECTS HAVE BEEN SO EXPENSIVE;

If you have been watching the UAV industry, you have seen investors pouring money into companies with even the simplest of multirotor UAV designs to profit from their tremendous market potential. To see one of these UAV companies suck-up $20 million Dollars or more to develop their products seem to just be what it takes. But that does not have to be the case! Those investment dollars are mostly going towards paying for their design-teams lack of experience and mistakes. Well, that's to be expected if you are using a design-team that has never had the experience of taking a project all the way from conception to full-production and deployment. Also most of the designers in the UAV industry are not real pilots that can fly manned aircraft, so they don't have any idea of what is really expected of an aircraft to perform properly, nor do they have ant experience in running manufacturing machines, so they don't know how best to design each part for ease of manufacturing to cut production parts.

That is the difference my expertise brings to the table. Yes, I am paid more than the average inexperienced engineer, but I don't cost you more money, in the end I save you money with my experience and knowhow to complete the job faster and more affordably by knowing what mistakes to avoid, how to streamline the development process, and to end up with a vehicle with less problems to solve when it hits the production line.

I have already gone down this road many times, and I know the traps to avoid, and I have the supplier contacts you will need, and I have the outside expertise contacts to draw on that will altogether better guarantee the project's success. Let me put it like this; how much money did you save if you invested in a project with an inexpensive design team, and they spent two or four times longer to successfully bring a project to deployment than they projected it would take? Imagine the cost overrun if they originally projected 1 year, you invested enough money for 1 year, and then as what typically happens with inexperience, it gets drug out to 2 years… or 3 years! Your choice has to me to keep pouring on the dough and wait much, much longer for a return on investment, or cut your losses and quit. So again, tell me how much money you saved? Believe me, I see this happen all the time, and one of the hardest things to do is try and convince an investor that by paying for experience don't cost them money, it saves them money, lowers their risk, as well as provide a better and faster return on their investment.
---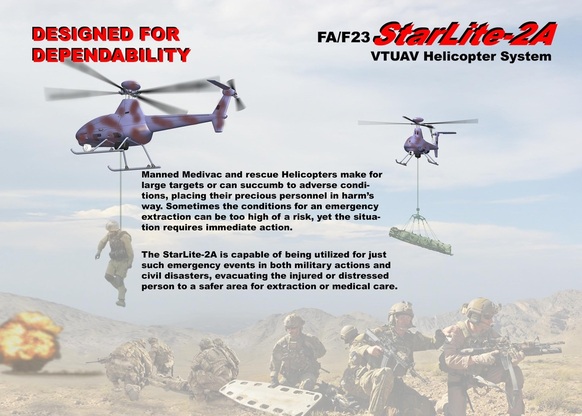 INVESTMENT AMOUNT;

First of all, Let's do a simple caparison of value; Let's say we had a sit-down with Schiebel and asked them if we could purchase just the production rights, not the tooling or equipment, but just the production rights to their S-100 CamCopter UAV helicopter, how much do you think it would be worth? I don't know, and I probably can't think that high in money, but it would be a bunch of money. As well it should be, that aircraft is in production and an investor wanting to buy the rights knows what he is getting for his money. I understand this too, and that is why I would be much more reasonable at this point, and up until we are rolling StarLites off the assembly line and into the hands of satisfied customers.

But, the risk is minimum, after all I've been building manned and unmanned helicopters for nearly 30 years and and successfully completed and flown every one, and I have all the contacts and suppliers necessary to do the job. But as I say, once they are rolling off the production line, our project becomes just as valuable as the CamCopter, and more so. So imagine the people in on this deal at the beginning, like the CamCopter people were when they invested, and the value return of our investment in comparison.
---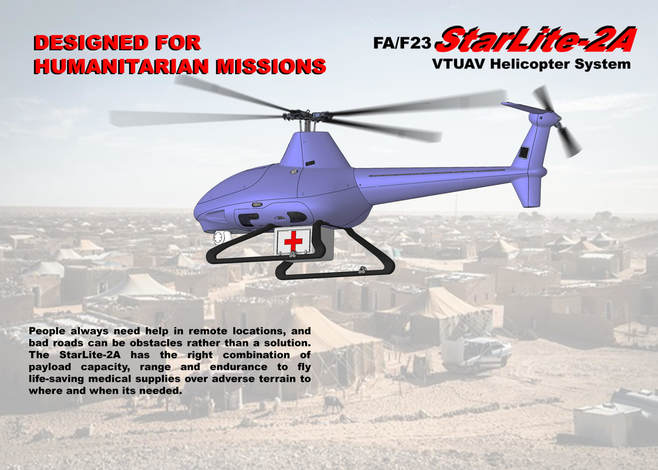 ​ Ok, so let's get down to the real question and you ask me; Fetters, what will it cost in time and money for you to start in an empty building a build me a factory and produce this UAV helicopter? Of course, I'm not going to throw out numbers here on the Internet, so it's something we would need to discuss confidentially, but if you know anything about this industry and you are realistic, then you will be surprise just how affordable the startup can be. This is something I have done several times, not only for my own factories in the past, but for two previous companies that contracted me to do so for them, so I have a good deal of experience doing this.

A little part of the Answer; I would need to outfit a small factory of about 600 square meters of office and production floor-space. I would also need to build all the equipment, special tooling, fixtures and molds that would be required to build the vehicle. To do this plus to build the first working production vehicle will take about 16 months. Some people will think that is too long, but I have the past experience to tell you it is realistic, and only an inexperienced laymen would guess faster.
​
Sure, I added a few months on for the unforeseen problems, just in case. Let's be honest, if I told you it would take 14 months and it ended up taking 15; I'm called a zero. But, if I told you it would take 16 months and I did it in 15, now I'm a hero!! So to protect my reputation I will add in some, what I call Star-Trek "Scotty-factor".
---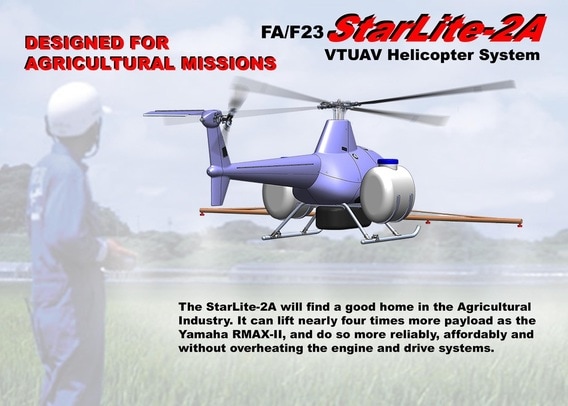 After this first step, it will take about another 4 months of test flying to dial-in the first production vehicle, and at the same time to build another 4 production vehicles as we teach the production people how to manufacture and assemble them.

So, in about 20 months or even sooner you will have a factory consisting of about 12 people capable of producing 50 vehicles a year. By the way, we could double production by adding just 4 more people. How do I know all of this? Back in 1998, my factory was producing 5 much larger manned helicopters every week, (that's 260 a year) and I only had a total of 52 office and production personnel employed.

So, that's it here for now, and that's all I'm willing to post to the public. I'm looking for an honest investor or company that has the vision and fortitude to help me bring the worlds best designed UAV helicopter of the 100Kg payload category to reality and take part in a market that is worth 28.27 Billion Dollars, and I'm ready to move to a new location and start immediately. I've never been so excited about a project in my life, because I know this vehicle will make a big difference in the UAV field for many years to come. If you are interested and capable to meet the financial needs of this project, then please contact me and lets do something big together!

With great sincerity,

Dennis Fetters
---

Greetings! I'm the little web-page maintenance guy.
Please forgive us if you catch us working on our website, because we are always doing or adding something. But for your convenience we will keep it open while we work! As we work, new things will be added, deleted, misspelled or just moved around until we get it to the way we like it! In the meantime, please browse around as you please.
Thanks for stopping by!
---
---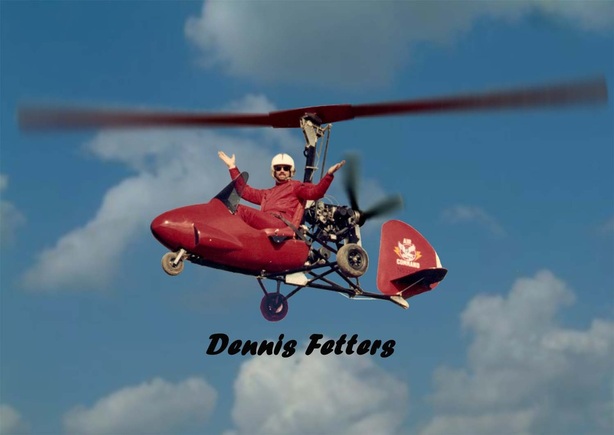 The Builder Of Flying Machines Creed;

The door of gravity had seemed shut to mankind, and yet unbeknown until only a century ago, a window to the sky had been always left open to us. God didn't give us wings, but instead endowed us a mind so we can think, learn and reason. He also endowed us with curiosity, and the desire to explore and expand. But, for a few of us, God gave something very special - a gift of eyes that could see a ladder reaching through an open window into the sky, and with that give us the realization that to climb it we could only do so without defying the laws of nature, which meant using earthly materials with fire and force as the tools to build the means. Always there, always waiting, and always ready, the same laws of nature that trapped us here for so long would turn out to be our means of escape, our ladder out - skywards.

We proudly carry the privilege and great satisfaction to possess the skills and experience to develop and build flying machines, and the joy it brings to use our minds to conceive a new concept, and being able to master the use of fire and force; to bend, form, and fuse metals and other materials to the will of our hands and needs. We feel a sense of pride when we see the results standing before us, when a short time ago it was only a thought in our minds. There is exhilaration after commanding it to breathe for the first time, and then see it come to life. And finally the greatest moment of all, after our skills as a builder turns to our skills as flyers, and we become one with the functions of the machine - then and only then, together conquer the sky.

The oldest dream has come true. We live in the age of flight, where man has broken his bonds of earthy existence. We have seen the earth from above, and will never be satisfied without reaching to go higher, faster, and farther... So, onward we will forever persist, for we are the builders of flying machines.

By Dennis L. Fetters;

---
---
BELOW ARE A FEW OF OUR PREVIOUS SUCCESS STORIES
---
WE TRAVEL TO WHERE WE ARE NEEDED!

At the present time, we are working on fulfilling contractual obligations at the location designated below. Due to the time differences, we may not be available to answer our office phone located in the USA. Our US Phone Number should still ring through to our location, depending on the hour of night or if we are between destinations. Please try calling during the business hours at where we are presently located. If we cannot answer due to technical reasons, please leave a message and a callback number and we will return your call as soon as possible. It is normally better to just send us an email when we are out of country.